Name:
Sajjad Ali Shah
Date Of Birth:
14th August 1957 at Karachi.
Academic Qualification:
After receiving early education in different parts of the country did his graduation from Government Islamia College Karachi where after obtained degrees of Bachelors of Law in 1984 and Masters of Law in 1988 from S.M. Law College Karachi.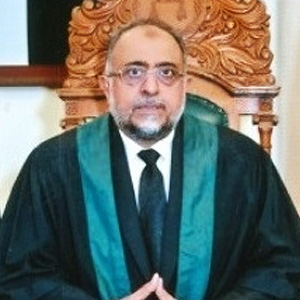 Experience:
Entered the Legal Profession in the year 1985. Practiced at bar for 20 years and during this period represented Government of Pakistan in many important cases before the Supreme Court and the High Courts, conducted cases on behalf of various Financial Institutions. Remained as Honorary Lecturer in S.M. Law College Karachi from 1995 till elevation to the Bench. Appointed as Standing Council for Government of Pakistan in the year 2002 and thereafter as Deputy Attorney General for Government of Pakistan in the year 2004.
Elevated to the Bench of Sindh High Court on 24th October, 2005. Remained Administrative Judge, Chairman Development Committee, Member Administration Committee, Administrative Judge for A.T.C. Sindh, Member Board of Governors for Law Colleges as well as Agha Khan Foundation and one of the founding Members of Zulfiqar Ali Bhutto University of Law. Appointed as Chief Justice of the Province of Sindh on 14th December, 2015. Appointed as Judge, Supreme Court of Pakistan on 15th March, 2017.