Born on 2nd February, 1957, at Karachi, Pakistan, in the family of distinguished Lawyer of Karachi Mr. Noor Muhammed. He did his early education from Gulistan School, Karachi and obtained B.A. Degree from Government National College, Karachi and LL.B. Degree from S. M. Law College, Karachi. Enrolled as an Advocate on 18th January, 1986, Advocate of the High Court on 4th April, 1988 and Advocate of the Supreme Court on 15th September, 2001. Elected as Honorary Secretary of the Sindh High Court Bar Association, Karachi, for the year 1999-2000. Practiced in diverse fields, including, the Civil Corporate side and remained Legal Advisor of various Multinational and Local Companies, Banks and Financial Institutions.
Elevated as Judge of the High Court of Sindh on 27th August, 2002. Notified as Senior Puisne Judge of the High Court of Sindh on 14th February, 2011. Elevated as Judge of the Supreme Court of Pakistan on 16th November, 2011. Remained Acting Chief Justice of Pakistan from 20-28 November, 2018; 13-17 May, 8-11 June, 26-30 September & 4-8 November, 2019. Appointed as the 27th Chief Justice of Pakistan on 21st December, 2019.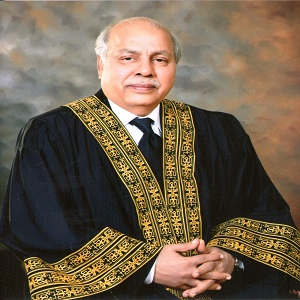 Remained Member Board of Governors, Institute of Business & Technology, NED University of Engineering & Technology, Sir Syed University of Engineering & Technology, Iqra University, Ahmed E.H. Jaffer Foundation and Agha Khan University, Karachi. Remained Chairman, Enrollment Committee of Sindh Bar Council, Karachi. Also remained Chairman of the Development Committee & I.T. Committee of the High Court of Sindh, Karachi. Notified as Chairman of the Disciplinary Tribunal, Pakistan Bar Council; Enrolment Committee, Pakistan Bar Council and Enrolment Committee of AORs. Notified as Member of Building Committee of the Supreme Court of Pakistan and Senior Member of Committee for Law Clerkship Program so also as Judge Incharge Administration, Supreme Court Establishment.
Attended 2009 Study Tour for Pakistani Judicial Officials on "International Cooperation in Terrorist Cases" sponsored by the United Nations Office on Drug and Crime at Vienna, Bonn and Berlin. Attended "18th Intensive Study Programme for Judicial Educators" conducted by the Commonwealth Judicial Education Institute, Canada held on 5-24 June, 2011. Attended International Judicial Conference as Co-Chair for thematic group "Parental Child Abduction & Transnational Jurisdiction" held on 19-21 April, 2013 at Islamabad. Attended Workshops of Federal Judicial Academy, Islamabad. Participated in the "Competition Law Workshop for Asia-Pacific Judges" held on 15-17 October, 2014 at Seoul, Korea. Gave an informal lecture on "Judiciary and Judicial System of Pakistan" at the Seattle University, School of Law, USA, on 27th October, 2014, with question and answer session. Attended "12th Meeting of the Chairmen of Supreme Court of SCO Member States" held on 25-27 October, 2017 at Tashkent, Uzbekistan. Participated in the fund-raising event for "Diamer Basha & Mohmand Dam" in December, 2018 at Seattle, USA. Attended "X International Conference on Compulsory Execution" held in July-August, 2019 at Moscow, Russia and "Asia-Pacific Judicial Conference on Environmental & Climate Change Adjudication" held on 7-8 October, 2019 at Nadi, Fiji. Attended "China Forum on International Legal Cooperation 2020" held online on 13th November 2020 organized by the China Law Society.